Testimonial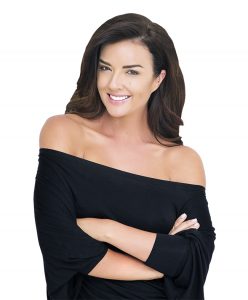 "I am fortunate enough to have tried a lot of the best beauty products available to us today.
I am a sceptic at heart and only use the best for my skin. Even in my book about how to be successful in the modeling and pageant industry I am very clear that the most important aspect of beauty is good skin and grooming.
For the past 4 months I have been drinking Collagen Lift and I have seen incredible results not only on my face but also my body. It has diminished my fine lines quite a bit, given my cheek area some lift and improved the general condition of my skin all over. It definitely has plumped up my breast a little and smoothed out the skin on my thighs.
Being in the beauty industry myself I know that beauty from within is one of the biggest trends internationally, but even though its new, it's been the fact for centuries. Your body makes less collagen as you get older and your body needs a bit of help. Creams should be used in conjunction with Collagen and good nutrition and a lot of water if you truly want to preserve and repair ageing.
In my 20 year modeling and television career I have only endorsed skincare products if I really use them and believe in them. Looking good is a very big part of my job, I need amazing results all the time and it needs to fit into my busy schedule. Collagen Lift Paris works for me and I absolutely love the product."
Love
Cindy Nell
---
Two or three days prior to a herniation operation I started taking the Red Carpet ampoules – purely for joint, ligament and bone recovery. COLLAGEN! Its been two weeks since my operation – this going into week three – and I have felt, seen and enjoyed the effects of Collagen Red Carpet. My skin is looking more plump (no more drained internal pharmacy depot effects), my scar is healing tremendously and my skin has taken on a radiant healthy glow.
I know and understand my skincare – and these effects are quantified by the Collagen Lift. I have to compliment Collagen Lift Red Carpet for the results I am continuing to experience. It is truly an amazing product.
Skin & Body International
---
I started taking Collagen Lift Red Carpet in November 2016.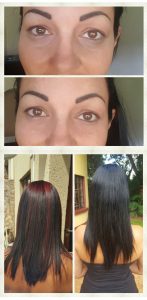 I am 37 and do the basic wash, tone and day/night creams. I love spending hours in the sun, which has damaged my skin and I am all wrinkled up. After Red Carpet, my skin is more toned, glowing and so soft and can hardly notice any wrinkles on my hands!  I had dark circles and bags under my eyes and after 2 weeks I started to notice a difference, but wasn't 100% sure. So I carried on with the product and in the middle of January after nearly 2 months I decided to take a picture, and there it was…nothing! Dark circles almost completely gone and no more bags.  SO IMPRESSED, because no eye cream/gel worked before.
My hair as well never grows.  When my sister saw me, she asked if I had extensions put in, I said no and then she started pulling my hair, to make sure it was my own 🙂  In less than 2 months, my hair grew 15cm, unbelievable! I get so many compliments daily, I can't believe I have wasted so much money and time on other products. I recommend this to ALL ladies, go out and spoil yourself, you won't be disappointed. After you have seen its results on yourself you will never go without your Collagen Lift 'Red Carpet' again.
Nicolette Fabricius
---
I've been using Collagen Lift 'Red Carpet' for a month now. After just a few weeks I and also my daughter noticed a remarkable difference! My skin all over my body is much plumper and tighter. My "jowls" sags less. Before I started using this product I thought that I was going to have to wear polo necks and sleeves. My upper chest area is now much smoother and my upper arms no more loose skin. Loving this product!
Eltha Venter
I started taking my "Collagen Lift Red Carpet" last week. Today was my 7th day and got compliments from two people (male and female) asking me what am I doing to my face, that the skin looks different and that I look younger and fresher.
Gloria Soares de Matos